Hint: It was not in a hospital.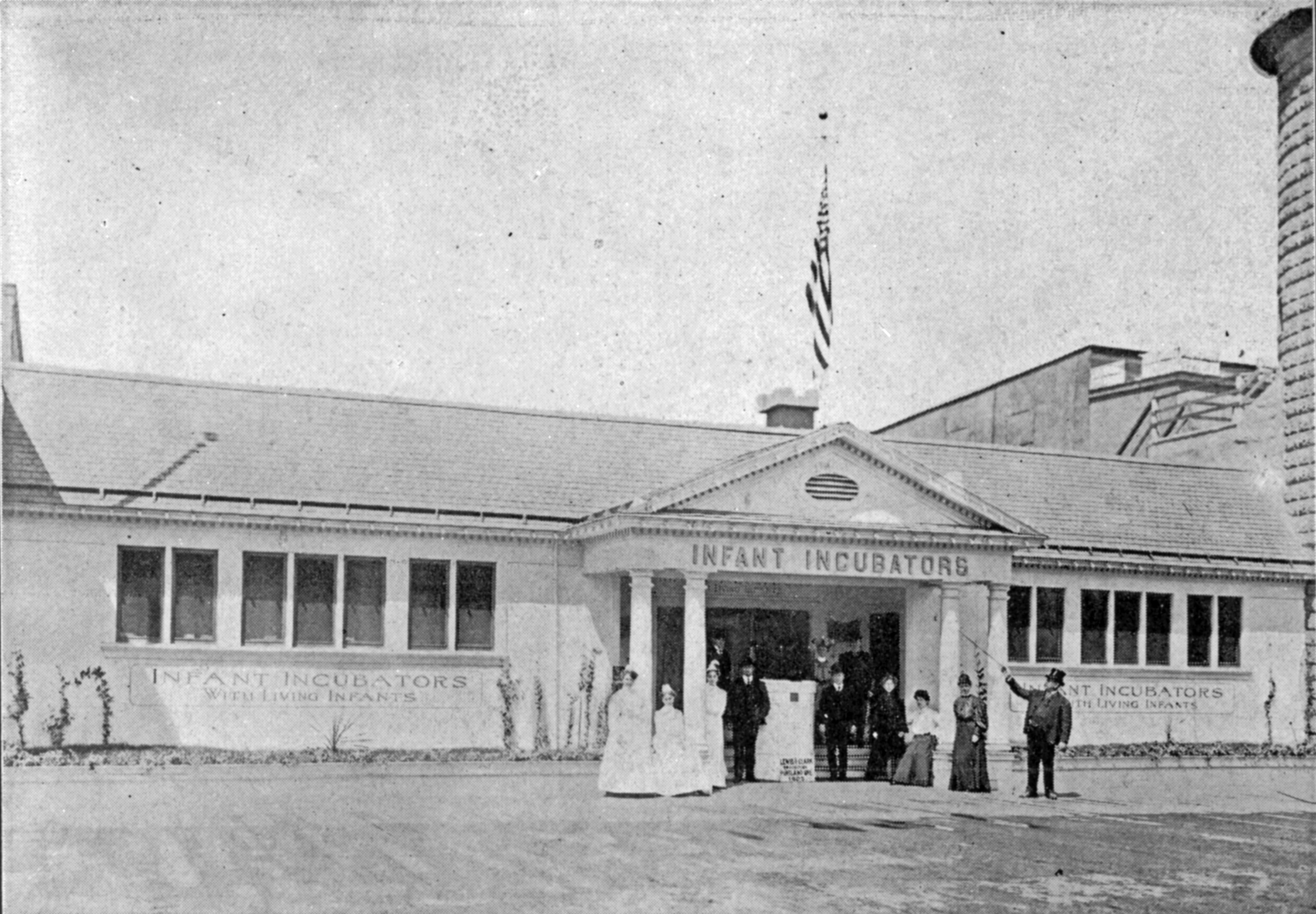 The first use of incubators in the Pacific Northwest was as a carnival attraction on "The Trail" arcade at the 1905 Lewis & Clark Centennial Exhibition and Oriental Fair. Admission was 25 cents for what proved one of the most popular exhibits at the Fair—premature babies benefiting from the latest technology.
Ticket sales covered the daily cost of $15 per child—the parents were not charged for the care. Visitors to the exhibit viewed the babies and medical team through plate glass as the preemies were skillfully treated. Half a dozen skilled nurses and two doctors cared for the babies, who averaged 2.5 pounds. New arrivals were bathed in water and mustard and dosed with two drops of brandy. Milk was provided by wet nurses.
"Ten ingeniously constructed incubators hold the world's little weaklings", according to notices in local papers, which called the incubators "Rest and Assurance for the Tired Mothers".
The Morning Register of May 28, 1905—the month before the Fair opened—contained a glowing article about the "artificial mothers". "They are such delicate, frail tiny cherubs that they are not yet ready to begin their struggle for existence…the Infant Incubator forms one of the most interesting and thoroughly scientific features at the Lewis & Clark Centennial Exposition. "
Infant incubator exhibits operated for at least four decades and reunions of the children helped to market the lifesaving efforts and carnival attractions of Dr. Martin A. Couney, who created and ran incubator-baby exhibits on Coney Island from 1903 to the early 1940s. Although he died in relative obscurity, he was one of the great champions of this lifesaving technology and is credited with saving the lives of thousands of the country's premature babies. The children were returned to their natural parents when they were healthy enough to live outside the miracle machines.